A New Round of Regulatory Planning Begins at the Subsidence Districts with the Release of Request for Qualifications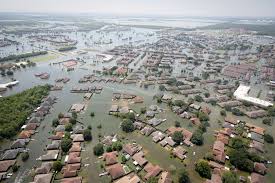 The Harris-Galveston Subsidence District (HGSD), in cooperation with the Fort Bend Subsidence District (FBSD), is seeking Statement of Qualifications from qualified professionals to engage in professional services agreements for the development of an updated regulatory plan as described in Request for Qualifications (RFQ-2019-005). The objectives of this effort are focused on accounting for future water needs and associated subsidence risk. "Both the Harris-Galveston and Fort Bend Subsidence Districts have had a long history of success, utilizing reasonable groundwater regulation to address the subsidence issue within the District," said Mike Turco, General Manager.
The multi-year project will include the following general tasks:
Develop revised population projections at the census tract level for Harris, Galveston, Fort Bend, and portions of nearby counties (study area).
Develop revised per capita water use based on multiple factors for the study area.
Compile and evaluate available information on future alternative source water availability.
Apply the United States Geological Survey (USGS) Coastal Lowlands Aquifer System (CLAS) MODFLOW6 groundwater flow model to investigate changes in water levels and subsidence in the study area.
Apply the Predictions Relating Effective Stress to Subsidence (PRESS) model to investigate subsidence
Address specific policy questions regarding the regulatory plan and rules.
A pre-submittal conference will be held on Monday, June 10, 2019 at 2:00 p.m. at the HGSD Office located at 1660 West Bay Area Blvd., Friendswood, TX. Interested firms must submit their state of qualifications to the HGSD Office no later than 10:00 a.m. on Wednesday June 26, 2019. The request for qualifications and associated materials can be found by clicking here.